Above: Sitting on top of the great pyramid in Egypt, 1978. Behind me is the second pyramid and down below by the road is a camel.
I began collecting photos of people when I was a student in 1970/71 at the Maidstone College of Art in Maidstone, Kent, England. One of our photography assignments had been to do a series on something. I started with people who had unusual jobs: roof thatchers, loch keepers, beggars, etc. Years later in Singapor I bought an Olympus half-frame camera and almost all the following shots come from it. Here are my favorite black and white people photos from my travels.
Below: Sailing down the Nile, Aswan, Egypt, 1978.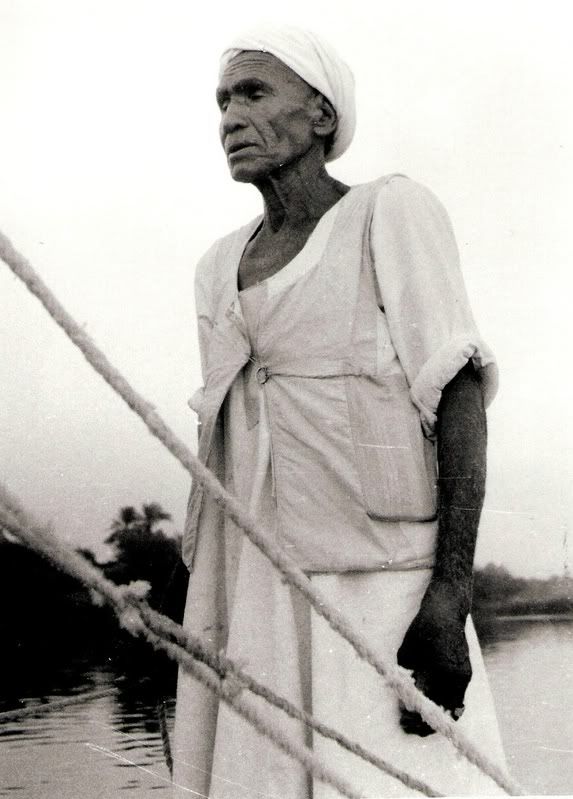 Cairo, Egypt, 1978 - a flexible Dutch traveler at the youth hostel.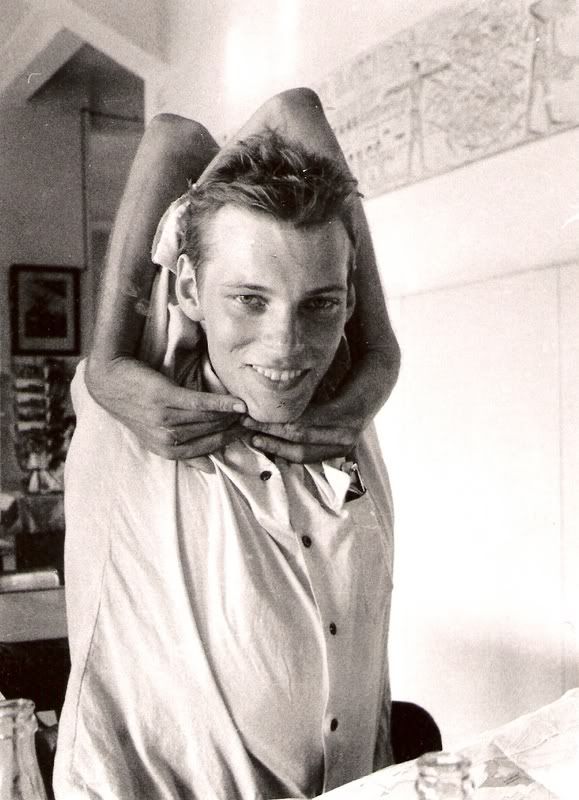 Mother and Child, Fez, Morocco, 1980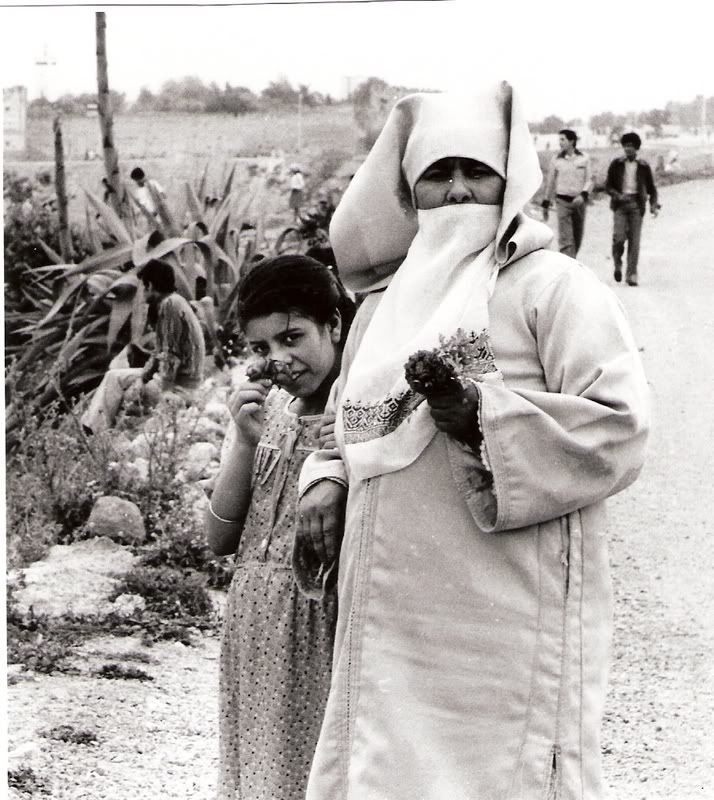 Market, Fez, Morocco, 1980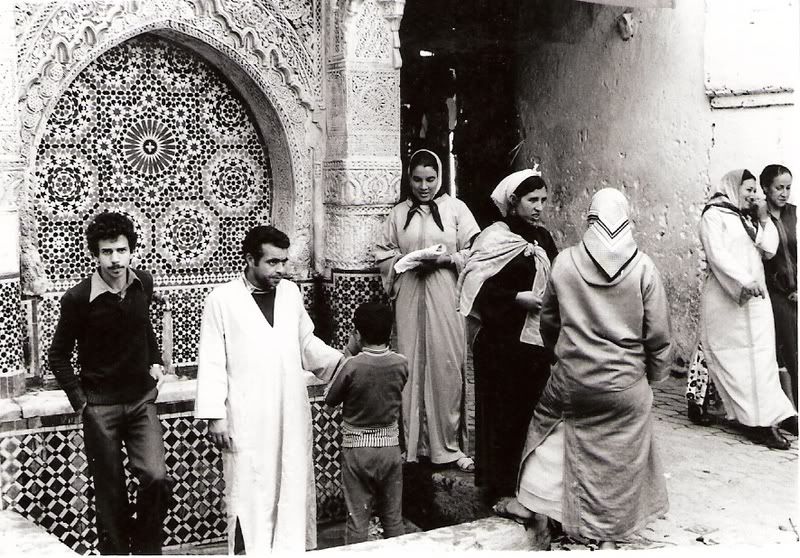 Guy in Market, Fez, Morocco, 1980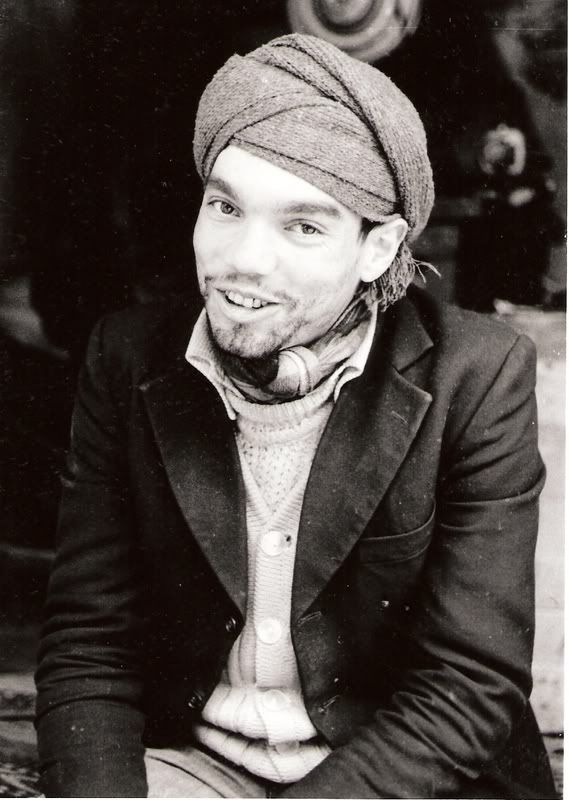 Kiff Pipe Seller, Fez, Morocco, 1980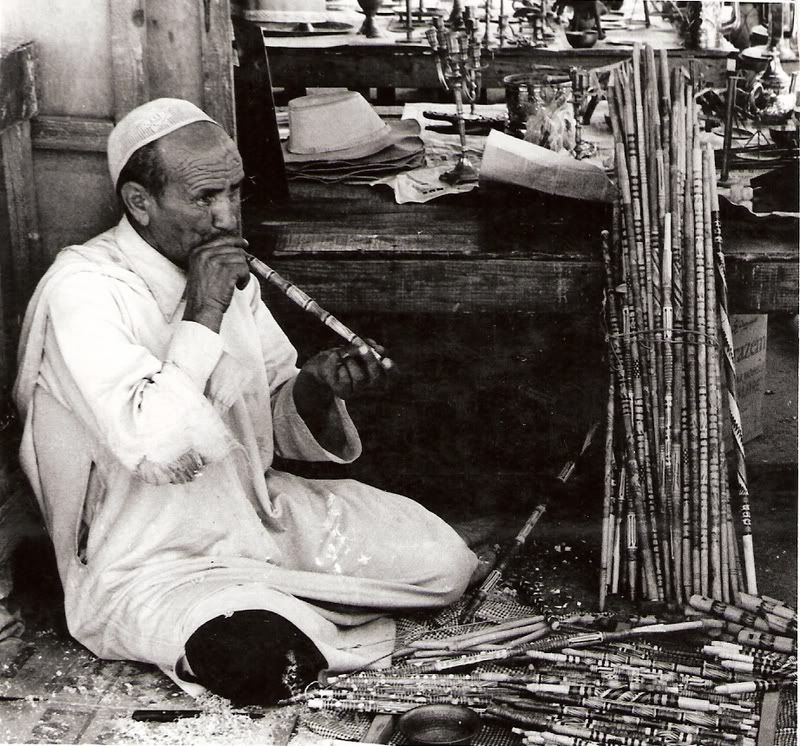 Market, Fez, Morocco, 1980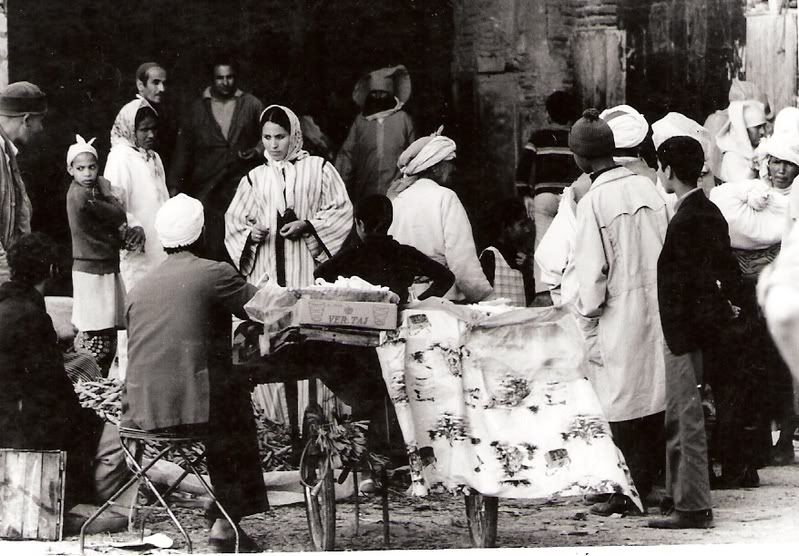 Moroccan Barber, Fez, Morocco, 1980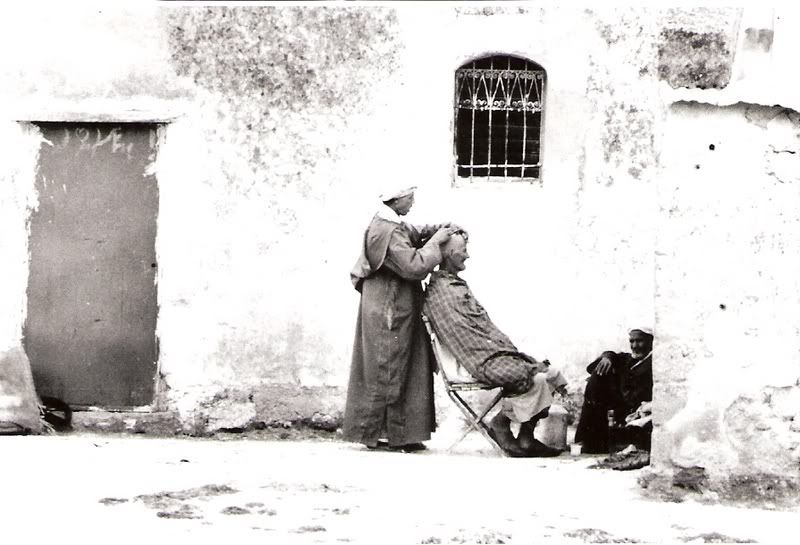 Nepalese Barber, 1977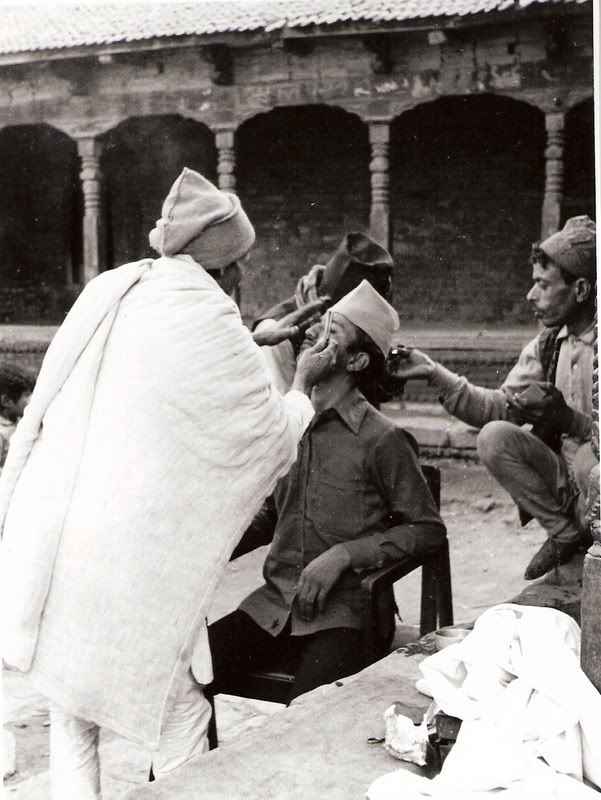 Mother with child, Himmalayas, Nepal, 1977
Tibetan Trader, Himmalayas, Nepal, 1977. I spent a week trecking to the base camp for Anna Purna and back. We met this guy with his string of pack ponies coming from Tibet. He was a businessman and charged me two rupees to take this shot.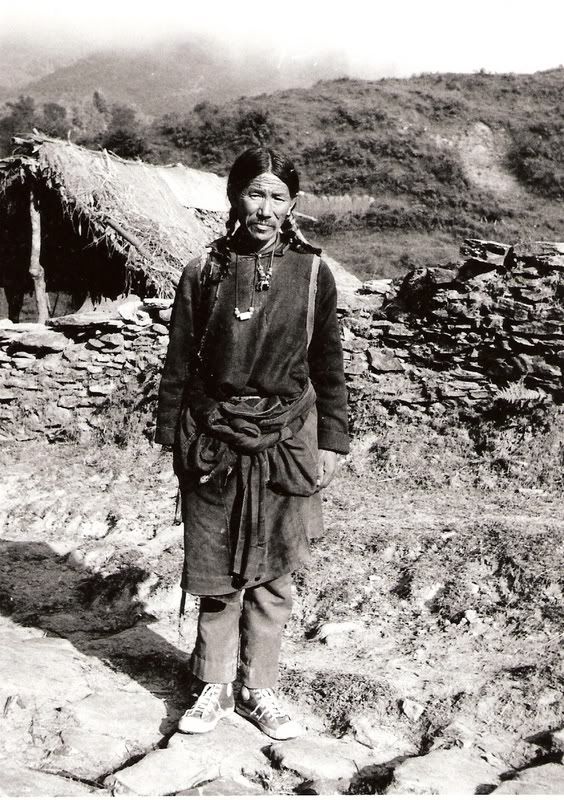 Nepalese Parking, Kathmandu, Nepal, 1977
Nepalese kids, Himmalayas, Nepal, 1977
Nepalese Girls, Nepal, 1977
Blind Musicians, Nepal, 1977
Moslem Prayers, Kashmir, India, 1977 - Festival at a big Mosque on Dahl Lake.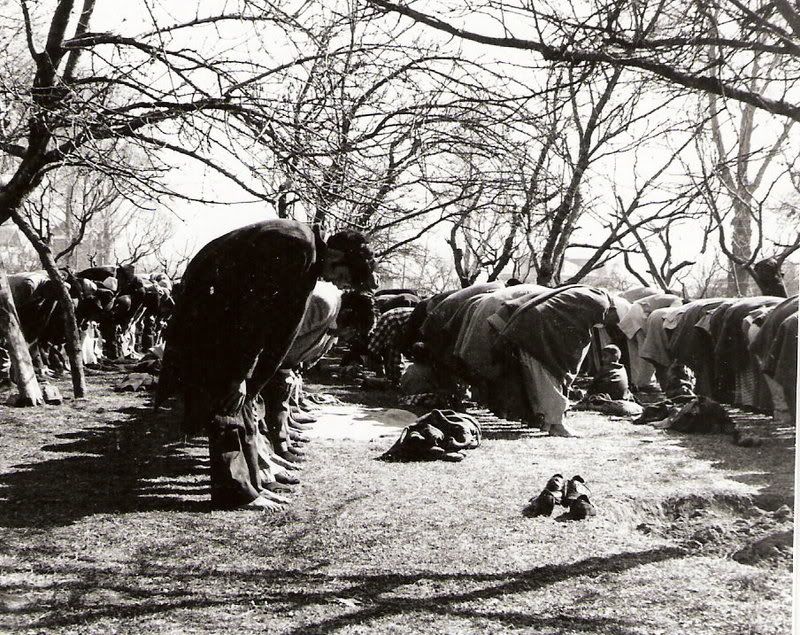 Kashmiri Kids, Srinigar, Kashmir, India, 1977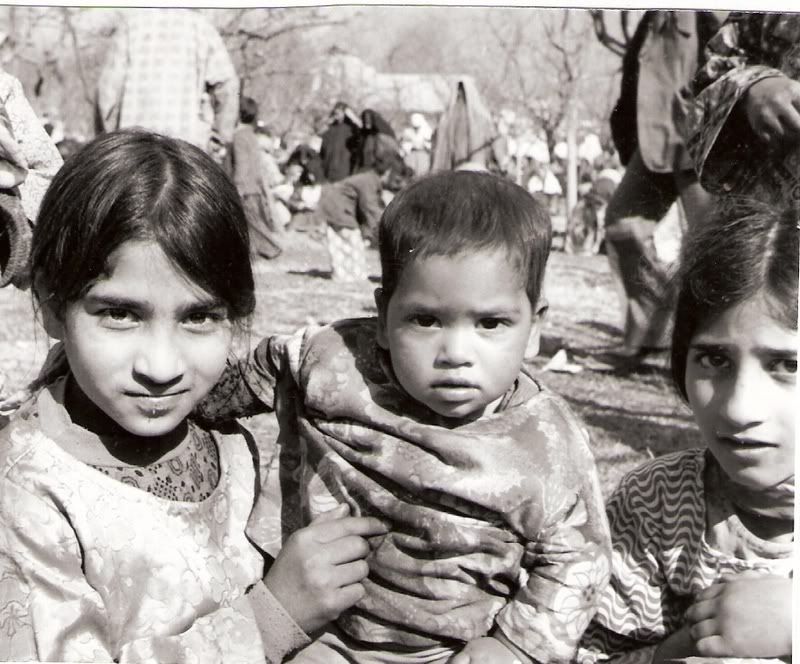 Kashmiri Girls, Srinigar, Kashmir, India, 1977
Shah's Stables, Tehran, Iran 1977. Americans with horses kept them at the Shah's stables in the north of Tehran.
Joseph and Madjeed, Tehran, Iran, 1977. I ended up staying for two months in Iran with an American family whose cousin I'd met in New Delhi. These two guys were friends I'd made who showed me around Tehran.
Yogi Krishna, Sivananda Ashram, Rishikesh, India, 1977. I spent a few days at this ashram and have since visited their American ashrams.
Thai Buddhist Monks, Bodh Gaya, India, 1977. I did a work exchange with the monks and stayed with them for a couple of weeks. I helped one of the monks with his studies which were in English. He only spoke Thai, while his professor had been Indian. He said he understood spoken English better than written so for an hour a day I read all his notes into a tape recorder while carefully explaining to him what it meant. He was going for his Phd. - don't know if I helped or hindered.
Future Indian Potter, Bodh Gaya, India, 1977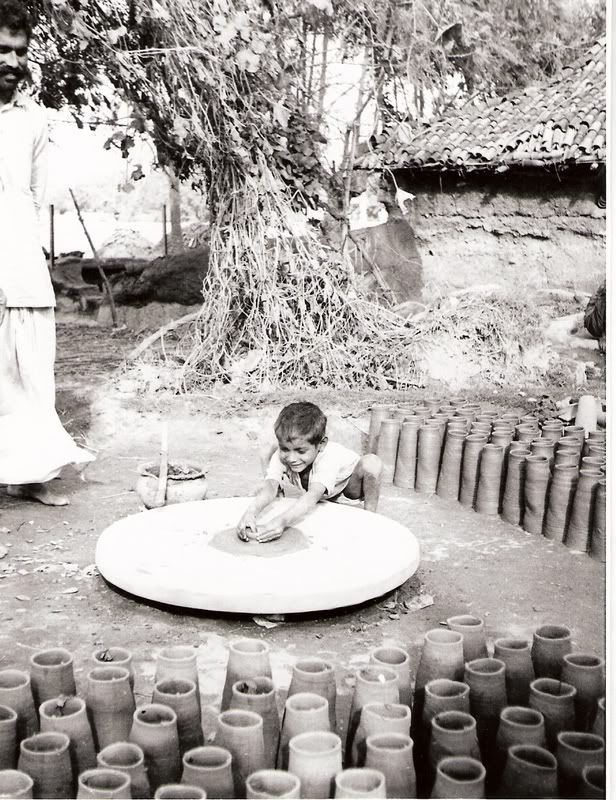 Elephant and Keeper, Jaipur, India, 1977. I was given a pregnant elephant to ride up the hill to the Amber Palace. Sort of like being in a row boat during a storm at sea.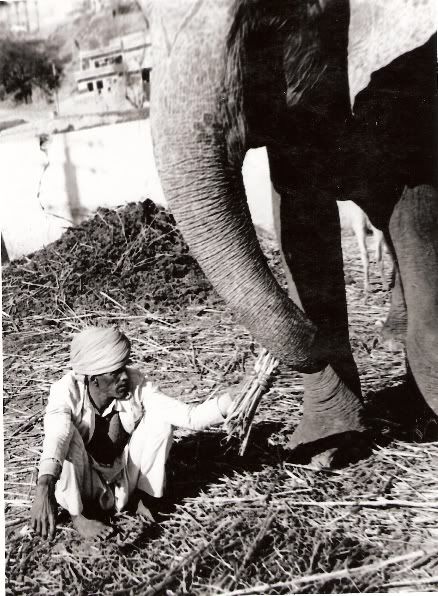 Ganges Boatman, Benares, India, 1977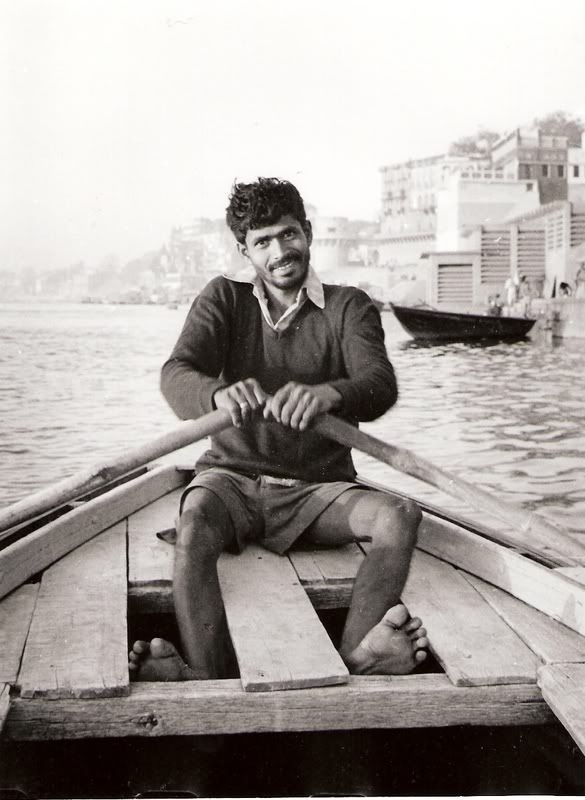 Biker Guy, Benares, India, 1977. For $1.50 a day this rickshaw driver took me and a friend I'd met all over the countryside. That was good money in India then. My rent at the government hostel was 33 cents a night. With food, my expenses were around $1.00 a day.
Bathing in the Ganges, Benares, India, 1977. They claim that the water is pure and is bacteria free, but when you see things float by and the burning ghats you have to wonder.
Cafe Owners, Kythnos, Greece, 1977. At that time (it's probably changed) the Greek people were so warm, friendly and generous, always ready for a good time. If you bought a drink in a cafe, they would bring out the Ouzo and begin giving you free drinks. If something wonderful came out of the oven, they would give you some to taste. One of my favorite countries.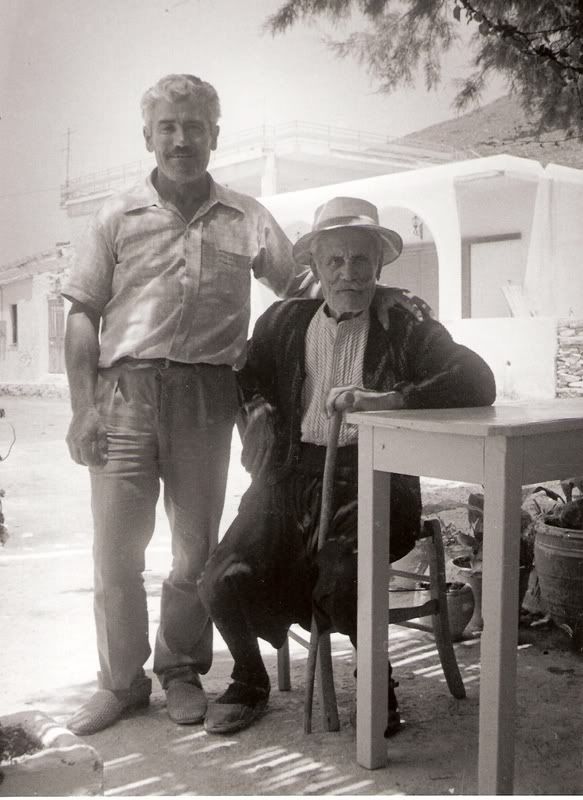 Railroad Engineer, Maidstone, England, 1971
Beggar, Leicester, England, 1970. A friend told me that this guy had played in the same spot for more than 20 years.
Loch Keeper on a Canal, Southern England, 1970.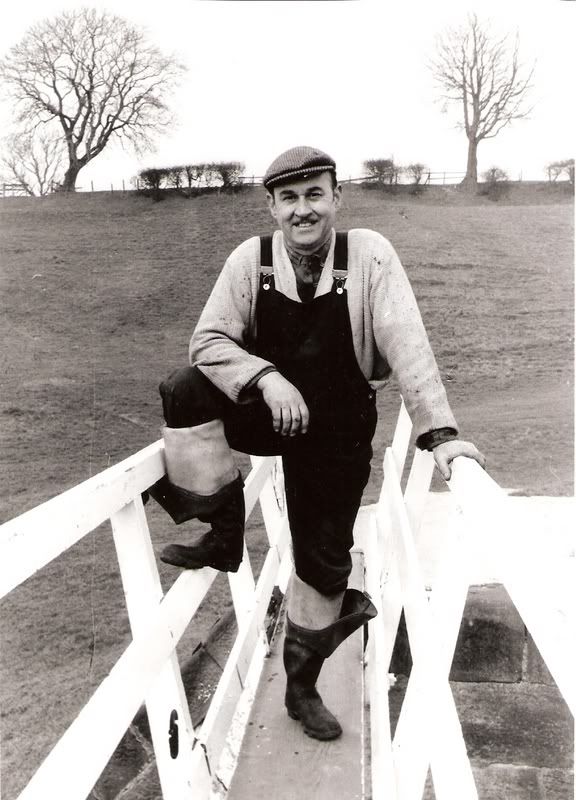 Pelican Motel, Herat, Afghanistan, 1977. I traveled across the Middle East with two English travelers, Mick and Ann, who returning to England in a Jeep. We stayed two nights in Herat, at the Pelican Motel. They had to bring fish in special every day from far away. The bird was nasty and liked to attack people. Anyone else out there remember the Pelican Motel? It's probably been blown to hell now.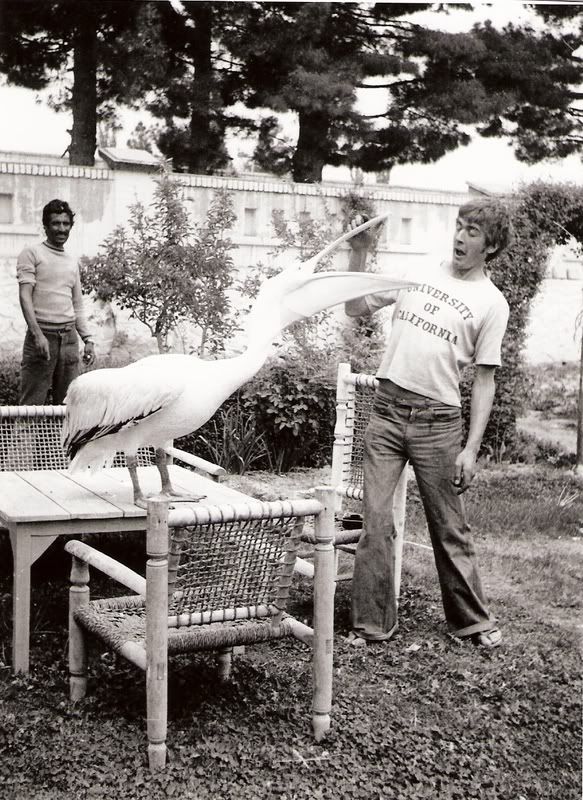 The Snake Temple, Penang, Malasia, 1976. He wouldn't pose for me until I did it first. Ugh.
Beach Village, Malaysia 1976. We spent a few days living in these houses on stilts.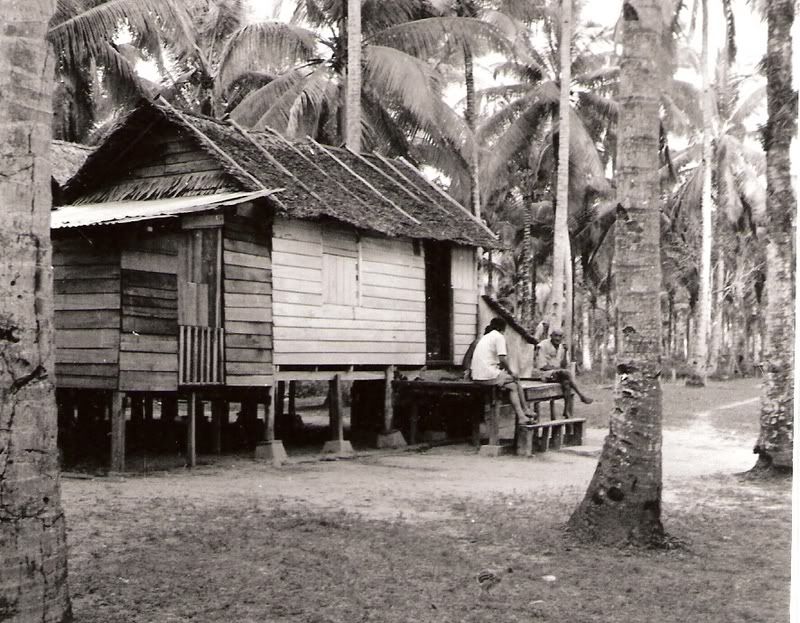 Fishermen, Malaysia, 1976.
Chatto, Barra de Navidad, Mexico, 1973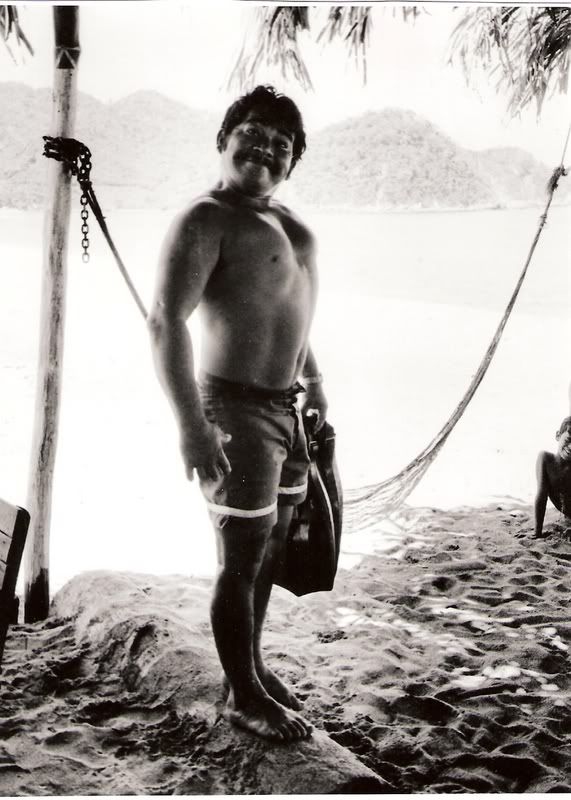 Mexico, 1973. Right after I shot this the police stormed on the bus and dragged several people off.
Kids in the Ocean, Playa Azul, Mexico, 1973. The hottest, nastiest place I ever saw. They tried to spray DDT on us while we ate in a restaurant to kill the thick layer of flies on everything, including our food.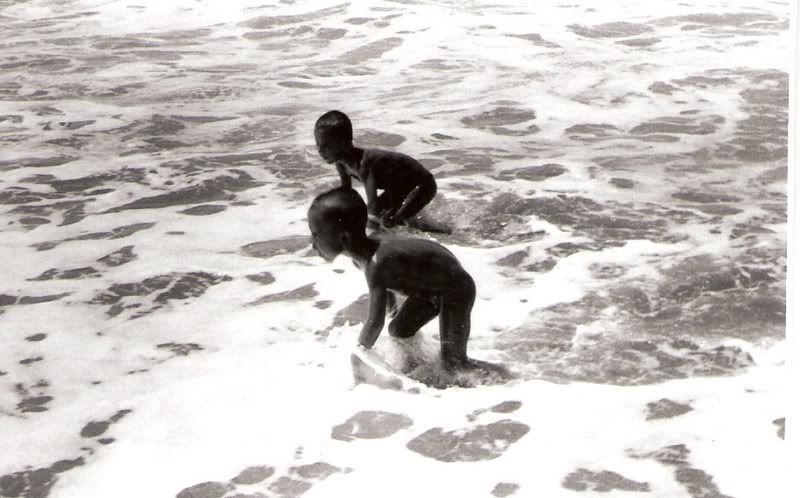 Home Sweet Home, scene from a train, Mexico, 1973. In all my travels I think the poorest place I ever saw was Mexico in 1973. The last time I went I was astounded at the changes and progress. Still a long way to go, but still impressive.
Cock Fights, Barra de Navidad, Mexico, 1973. Thought I'd be horrified but if you've been kept awake every night by the next door neighbor's non-stop crowing roosters you wouldn't mind so much either.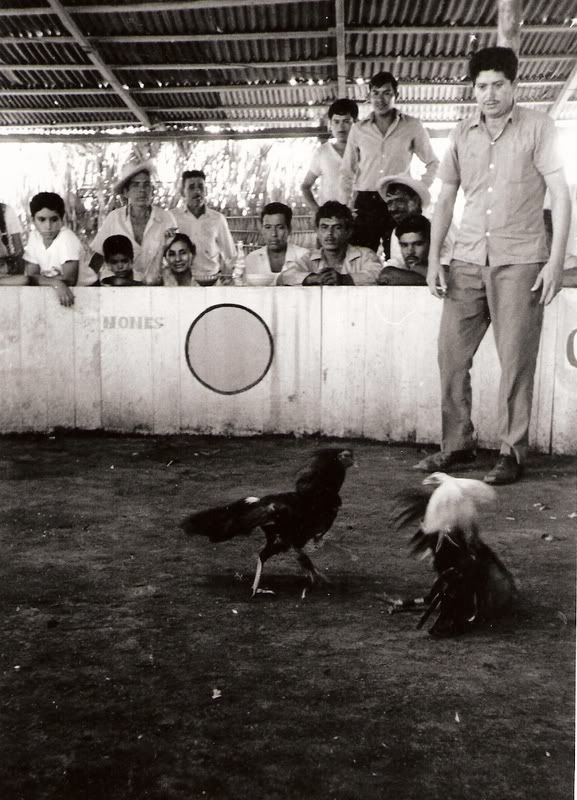 Coconut Carver, Barra de Navidad, Mexico, 1973. He taught me how to carve coconuts.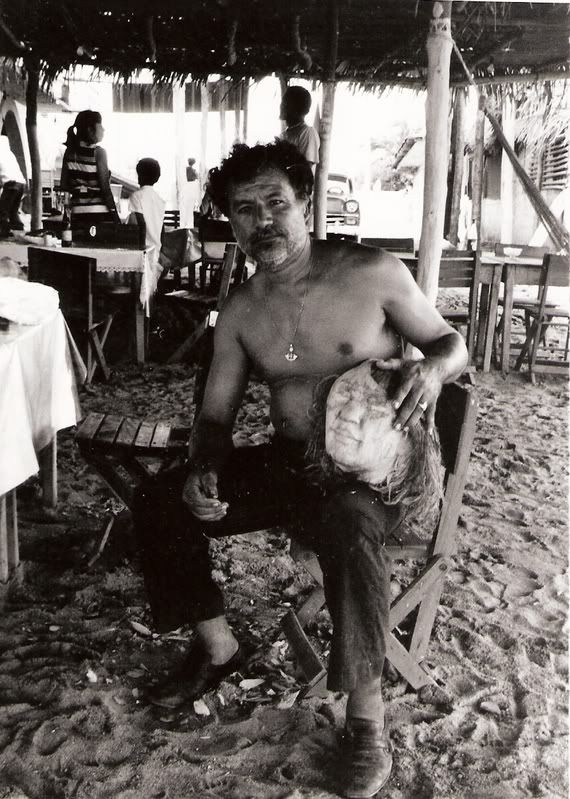 Peace Demonstrators, Prague, Czechoslavakia, 1983. I'd organized a 16 mile long peace vigil along the entire length of Wilshire Boulevard in Los Angeles in 1982 (LA's Longest Vigil.) Because of that I was invited to this a big international peace wingding in Prague. Very impressive, very beautiful country, big load of propaganda, but I met lots of interesting people and had a great time. I photographed everyone from Yaser Arafat to cosmonauts.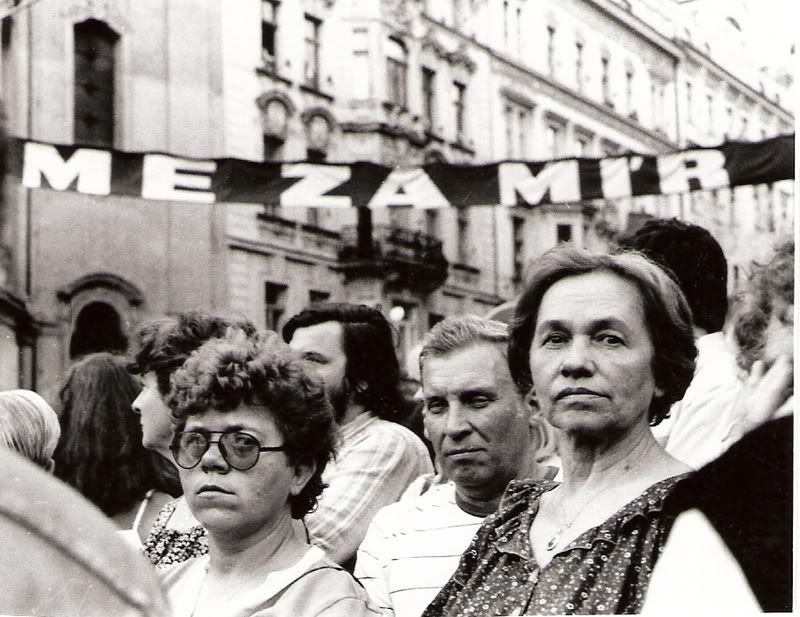 More Peace People from Prague 1983
An English Delegate to the Peace Conference held in Prague.
The Skin Trade, Wagga Wagga, New South Wales, Australia, 1975. I got a job working as the college photographer for the Riverina College in Wagga Wagga, New South Wales, after my husband was hired to teach sculpture at the college.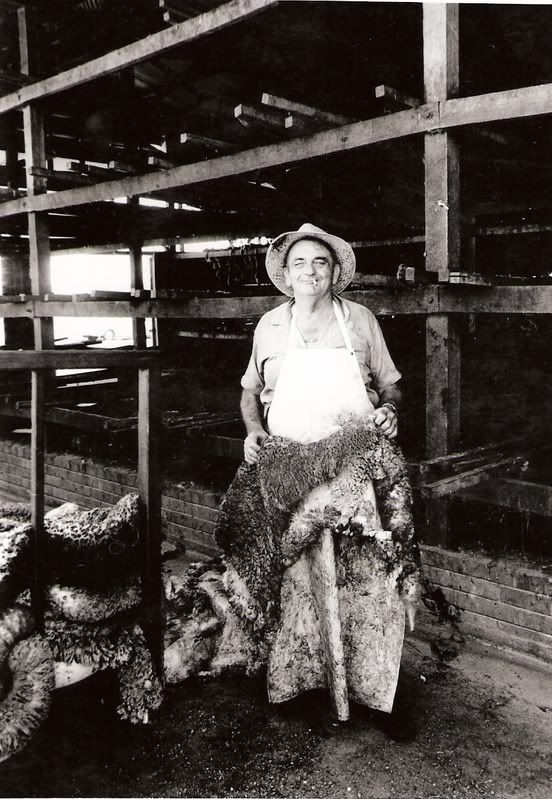 My Boss, Wagga Wagga, N.S.W., Australia, 1975 - My boss, John,taught art for several years in New Guinea and this was a tribal mask worn by a mountain tribe. The rest of the authentic costume consists of a penis tube, used to tie everything to a string around the waist, and a lot of colored clay.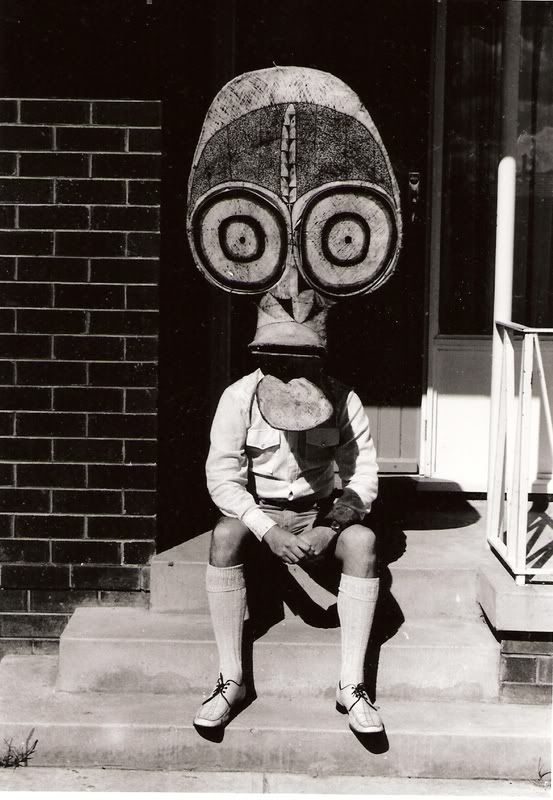 Landlady, Wagga Wagga,Australia. We rented a 200 acre farm (for about $100 a month) from a couple who owned a dairy. I was taking photos of my landlady when the cow whapped her upside the face with its tail. Just as she grabbed it's tail I took this picture (accidentally), but loved it. She never forgave me for this photo because it ended up being in a big traveling photo exhibition (International Year of the Woman) which was opened by the Prime Minister's wife and printed into a book.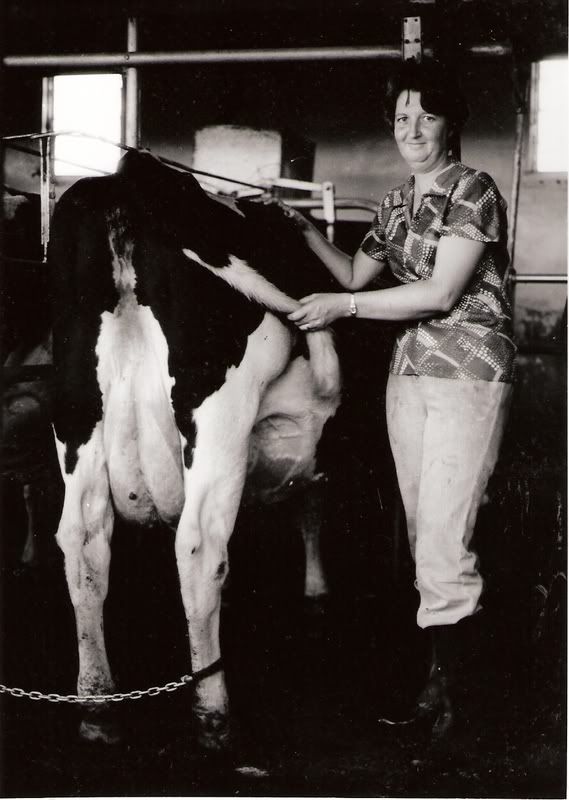 Big Game Hunter, Wagga Wagga, Australia, 1975. This guy used to brag to me about his boar hunting so was glad to pose for me when I had to design a poster for the Theater Department (a play about a shooting gallery). He didn't mind when I asked him to pose next to the carcass of this cow that had died from the drought, then had it's face eaten by predators.
Geeg Getting Shoes, Wagga Wagga, Australia, 1976, my horse Geeg (pronounced Jeege) would follow me or just stand and fall asleep snoring with his head on my shoulder when I used to macrame outside (a big craft thing in the 70's). The friendliest horse I ever had. He would jump a five foot high fence without hesitation, but had to be very patiently persuaded to walk across a shallow stream. He'd been a working horse from Queensland where it's dry and hot and evidently just hadn't seen one before.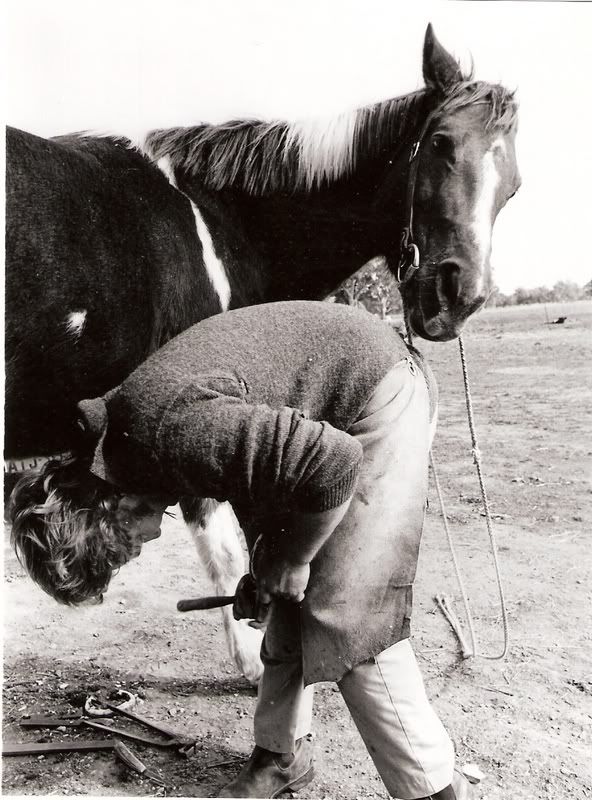 Play Acting, Wagga Wagga, Australia, 1975. I'd been sent to get pictures to use for the pre-school's brochure.
Drover, Wagga Wagga, Australia, 1976. This guy was driving 3,000 sheep with several horses and a gang of dogs, from government paddock to paddock because of the drought. The owner of the sheep needed his pastures to grow again while the sheep fattened up on the government's excess grass.
The Day I Became a Vegetarian, slaughter House, Wagga Wagga, Australia, February, 1975. Haven't knowingly eaten meat since.